Fax:+86 371-67993277
Tel: +86 371-67991755
Sales direct: +86 15838331071
E-mail:sales@battemachinery.com
http://www.loss-in-weightfeeder.com
24h services
Volumetric screw feeder
Volumetric screw feeder
is a kind of accurate volumetric feeder, and is available in all steel construction to customers demanding it. The details about this pump include features, components, and applications.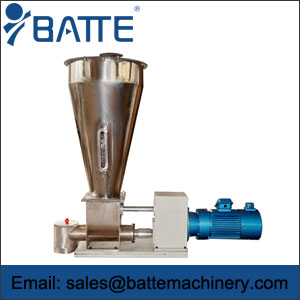 Volumetric screw feeder applications:
This accurate
volumetric screw feeder
is also a good option for high temperature applications. Special internal agitators can be included if the application requires it.
Volumetric screw feeder features:
Heavy Duty Stainless Steel Construction
In-Line Coupling Drive
ANSI Style Mating Flange Customizable per Application
Volumetric screw feeder components:
Quick Disconnect Auger
Patented Cartridge Drive Bearing Assembly
Large Hopper Opening Promotes Material Flow
Volumetric Screw Feeder is available in powder coated carbon or stainless steel, and is a very good option for materials that do not require any agitation to promote flow.
©2015 Batte Mechanical Zhengzhou Co,.Ltd. All rights reserved. 
sales@battemachinery.com
Batte is a
loss in weight feeder manufacturer
, supplying
loss in weight feeder
,
volumetric feeders
, and
metering feeders
.