Fax:+86 371-67993277
Tel: +86 371-67991755
Sales direct: +86 15838331071
E-mail:sales@battemachinery.com
http://www.loss-in-weightfeeder.com
24h services
Volumetric Feeders
Volumetric Feeders
are a great feeding solution for applications that do not require rigorous feed rate accuracy. Volumetric feeders are often used in gain-in-weight feeding operations.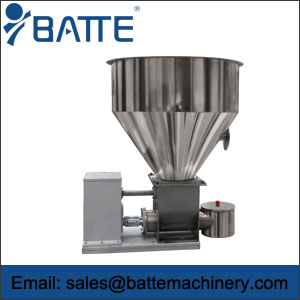 Volumetric Feeders features:
Vibratory Screw Feeders
and Screw feeders are the two most common volumetric feeders used in the industry.
Batte offers its proprietary Vibratory feeder that is great for volumetric feeding to solve your material handling problems.
Batte also offers screw feeders through its parent company, Carolina Material Technologies.
Our feeders are optimized for material changes and can be configured for various material properties.
The Vibratory feeder is great for volumetric feeding for various reasons.
First, the vibratory feeder has no moving parts.
Second, the volumetric feeding system operates on a mass flow basis, without the following moving parts: screw, sprockets, bearings, bushings, multiple DC or AC drives, motor brushes, agitators, shafts and seals.
Third, the vibratory feeder is very easy to empty and clean.
Remove one quick-disconnect clamp and the tray swings open for complete cleaning.
Volumetric Feeders also called Volumetric Screw Feeders for their design structure.
©2015 Batte Mechanical Zhengzhou Co,.Ltd. All rights reserved. 
sales@battemachinery.com
Batte is a
loss in weight feeder manufacturer
, supplying
loss in weight feeder
,
volumetric feeders
, and
metering feeders
.