Fax:+86 371-67993277
Tel: +86 371-67991755
Sales direct: +86 15838331071
E-mail:sales@battemachinery.com
http://www.loss-in-weightfeeder.com
24h services
Single Screw Volumetric Feeder
Single Screw Volumetric Feeder
is used in gain-in-weight batch application since higher accuracy can be achieved. If process demands,
volumetric feeders
with gravimetric scale and loss-in-weight control will be a good choice.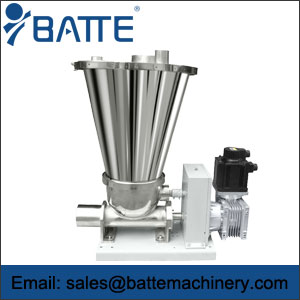 Single Screw Volumetric Feeder applications:
Volumetric feeder provides low cost and easy option in batch or continuous applications, especially when the bulk density of the fed material is consistent or when precise feed accuracy is not so important for the quality of end product. Single screw feeder is the best choice for free flowing materials.
Applied for pellet, granule and free flowing powder to provide volumetric feeding
Single Screw Volumetric Feeder properties:
Can provide reliable and stable performance
Volumetric screw feeders
with a number of models and different-sized hoppers
The feeder is placed on the painted steel plate.
All the feeder parts which contact feed material are made of stainless steel.
The volumetric feeder can be disassembled easily for cleaning or changing parts.
The hopper design can allow material from all directions to flow evenly to the screw, which can avoid material build-up and make feeding more accurate.
A series of interchangeable screws are available for our single screw volumetric feeder to meet the requirements of different materials being fed.
©2015 Batte Mechanical Zhengzhou Co,.Ltd. All rights reserved. 
sales@battemachinery.com
Batte is a
loss in weight feeder manufacturer
, supplying
loss in weight feeder
,
volumetric feeders
, and
metering feeders
.