Fax:+86 371-67993277
Tel: +86 371-67991755
Sales direct: +86 15838331071
E-mail:sales@battemachinery.com
http://www.loss-in-weightfeeder.com
24h services
cast film extrusion die
Cast film extrusion die;
Cast film extrusion die effective width of up to 8000mm, manually adjust the flexible lip, single-channel, multi-channel coextrusion compound cast film die, the characteristics of the corresponding extruder can be designed for the following applications PP. PE.EVA cast film, CPP.CPE.PVDC, EAA containing EVH and PA barrier film, film die direct used in food packaging, a variety of specifications, types of stationery film, sanitary products film, adhesive film, cling film Wait.
Cast film mold, plastic extrusion die, die details
Cast film extrusion die role: plastic
Cast film extrusion die, plastic extrusion die, die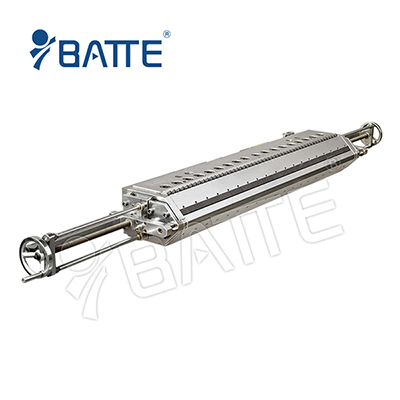 + Continuous unobstructed flow in the die lip, with small spacing adjustment screws on the resin pressure and metal bounce up and down to work, bending the die lip to adjust the die gap, the die width can be adjusted.
+ All hard chrome plated surfaces, fasteners using 12.9 high strength bolts, high quality, durable heating rods heated partition control.
+ Stable production, simple structure, easy to disassemble and clean.
+ Width 3000mm the following, the thickness of 0.3mm the following, hanger-type runner, width adjustable, fine-tuning of the die on the film die.
+ Suitable raw materials: PP, PE, PVC, TPU, EVA and so on.
+ Production of various packaging film, stationery film, embossed film, light film, breathable film, film, disposable tablecloths and so on.
Extruded flat die in the lip can get continuous unobstructed flow surface, 45 degree 90 degree adjustment bar stopper adjustment device to meet the needs of different thickness of the product, the upper and lower lip adjustable thickness, lip can be replaced.
©2015 Batte Mechanical Zhengzhou Co,.Ltd. All rights reserved. 
sales@battemachinery.com
Batte is a
loss in weight feeder manufacturer
, supplying
loss in weight feeder
,
volumetric feeders
, and
metering feeders
.