Fax:+86 371-67993277
Tel: +86 371-67991755
Sales direct: +86 15838331071
E-mail:sales@battemachinery.com
http://www.loss-in-weightfeeder.com
24h services
cast film die
We specialize in producing plastic extrusion sheet mold, sheet die, cast film die, lamination die, wave tile die, glazed tile die, hollow grid die and its matching screen changer, distributor, Melt metering pumps and other products companies have the international advanced level of production equipment and product testing equipment, and summed up a unique set of experience, the company developed a high precision molds, long life, short cycle, the price is reasonable, courteous service, deep Praised by domestic and foreign customers.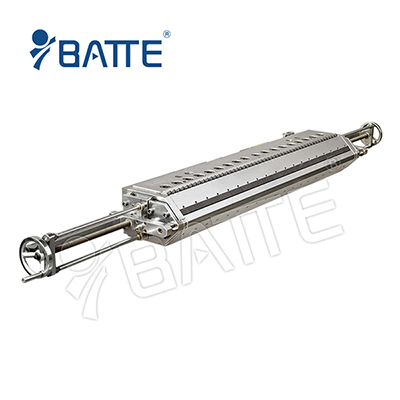 Cast film die has passed ISO9001: 2000 international quality system certification, technology to note the following:
1. The product molding process, mold structure and production process analysis. Mold life up to 1 million times or more.
2. Must design a complete cast film mold structure and processing parts, and put forward the assembly requirements and extrusion process requirements.
3. Plastic parts caused by the appearance of quality defects (such as shrinkage, etc.) or cast film mold structure problems (such as sub-surface setting, gate settings, mold life can not be guaranteed, and other issues).
4. Cast film die appearance: cast film mold appearance must ensure that no rust marks, no bumps, no residual defects and other module defects.
5. Cast film die transport: Casting mold film transport must be fitted with locking film, packaging firm, rust-proof.
6. Cast film die information: cast film delivery in the mold at the same time, we must provide a complete set of mold consumables and maintenance reference materials.
©2015 Batte Mechanical Zhengzhou Co,.Ltd. All rights reserved. 
sales@battemachinery.com
Batte is a
loss in weight feeder manufacturer
, supplying
loss in weight feeder
,
volumetric feeders
, and
metering feeders
.