Fax:+86 371-67993277
Tel: +86 371-67991755
Sales direct: +86 15838331071
E-mail:sales@battemachinery.com
http://www.loss-in-weightfeeder.com
24h services
Metering Screw Feeders
Metering Screw Feeders
include single screw feeders, twin screw feeders, freeflow feeders, multi agitator feeders, and special designs. These feeders have different principle, benefits, operation, and other details.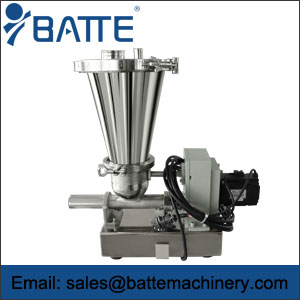 Metering Screw Feeders types and details:
Single Screw Feeders: Moving parts kept to a minimum with no drive chains or couplings, resulting in low maintenance requirements. Output Range - 1.0kg/hr to 100,000 kg/hr.
Twin Screw Feeders:
Designed to resolve three main problems associated with the feeding of powders and particulates:
Sticky materials, which can block, plug or core in single screw machines.
Flushing powders that tend to fluidise.
Cohesive, sticky and greasy powders that tend to fall in congealed lump form.
The separately driven agitator ensures densified material is directed evenly into both screws, which run completely and evenly filled: They are designed to intermesh and can be characterised to have specific features.
Output Range - 1.0kg/hr to 25,000 kg/hr.
Freeflow feeders and Multi Agitator Feeders:
Principle and Operation of Freeflow Feeders and Multi Agitator Feeders:
In response to specific customer requirements across the spectrum of industry Batte Industries have developed their successful range of Metering Screw Feeders to encompass special designs that are both industry sector and material specific. Whatever the feeder type the result is the continuous metering of all materials from flushing powders to fibrous particulate products at a constant volume to high accuracies. Based around the benefits of the Batte, Metering Screw Feeder principle, one such unit is the Freeflow Feeder, and one such machine is the Multi Agitator Feeder.
Freeflow Feeders:
Designed for economy and use with free flowing powders or granules, the tapered profile of the hopper together with the large inlet overcome any bridging problems and ensures a smooth flow of material into the feed screw, which runs completely and evenly filled within its feed tube.
The screw drive controller has electronic feedback, ensuring highly accurate speed holding under all load conditions, ensuring material is metered out of the machine at a regulated and constant volume with an accuracy of 1% - 2% on free flowing particulate solids.
Output Range - 10.0kg/hr to 5,000 kg/hr – depending on screw size installed.
Multi Agitator Feeders:
Designed with a very large inlet area of 0.5m square to allow the fitting of a large outlet hopper. Also incorporated are two, full length independently driven twin shaft agitator product conditioners, which continuously sweep the conditioning chamber. The very active live hopper outlet feature allows the feeder to handle difficult products, which may bridge, stick or rat hole, such as cooked cereals.
The agitators can be wired to counter-rotate or co-rotate to suit the application and a speed inverter can be fitted to allow different conditioning rates.
Output Range - 200kg/hr to 20,000 kg/hr – with screw sizes from 75mm dia – 150mm dia.
Other Special Designs of Metering Screw Feeders also are available, such as food industry, snack foods industry, water industry, chemical industry,pharmaceutical industry, and plastics industry.
©2015 Batte Mechanical Zhengzhou Co,.Ltd. All rights reserved. 
sales@battemachinery.com
Batte is a
loss in weight feeder manufacturer
, supplying
loss in weight feeder
,
volumetric feeders
, and
metering feeders
.