Fax:+86 371-67993277
Tel: +86 371-67991755
Sales direct: +86 15838331071
E-mail:sales@battemachinery.com
http://www.loss-in-weightfeeder.com
24h services
High Pressure Gear Pump
High Pressure Gear Pump
is ideal for the most demanding extrusion processes, and also called HGP. The features, benefits, and applications of these melt pumps are shown in the following details.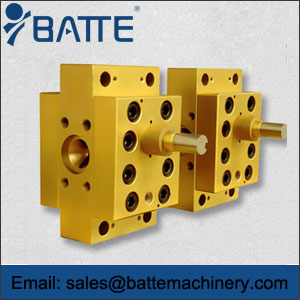 High Pressure Gear Pump Features:
Through hardened tool steel gears
Compact / low profile design
Leak-free operation to 10,000 psi
All parts manufactured to ISO-9002 standards
Pressure balanced drive shaft
Heavy duty construction
Transducer ports integral to housing
Process temperatures to 850° F
High Pressure Gear Pump Benefits:
More accurate gauge control
Increased output rates
Faster start-ups
Lower processing temperatures
Reduced scrap
Increased life on extruder screw & barrel
Lower energy consumption
Lower shear stress
High Pressure Gear Pump Applications:
Sheet
Coating
Pipe and profile
Compounding
Wire and cable
Tubing
Blown and cast film
Lab lines
Textiles (fibers and nonwovens)
EVA, hot melt adhesive and PSA
Pelletizing (strands and underwater)
High pressure
Blown film and cast film
Degradable materials
The Batte High Pressure Gear Pump (HGP) is ideal for the most demanding extrusion processes. The HGP is capable of processing highly viscous, filled materials and can operate at pressures up to 10,000 psi (7,500 ΔP). The pump system is mounted between the extruder and the die head to eliminate any process variations initiating in the extruder. The HGP will accurately meter polymer and pressure to the die providing consistent output, precise gauge control, and ultimately a superior end product. Batte manufactures complete pump systems, controls, and all interfacing equipment which can be mounted on a custom designed support stand, or supplied as individual components.
©2015 Batte Mechanical Zhengzhou Co,.Ltd. All rights reserved. 
sales@battemachinery.com
Batte is a
loss in weight feeder manufacturer
, supplying
loss in weight feeder
,
volumetric feeders
, and
metering feeders
.