Fax:+86 371-67993277
Tel: +86 371-67991755
Sales direct: +86 15838331071
E-mail:sales@battemachinery.com
http://www.loss-in-weightfeeder.com
24h services
Application scope and advantages of weightless feeder equipment
The weightlessness feeder has core technology and independent research and development force, and has rich engineering application experience in many fields and industries. The weightlessness feeder has the following unique functions and advantages: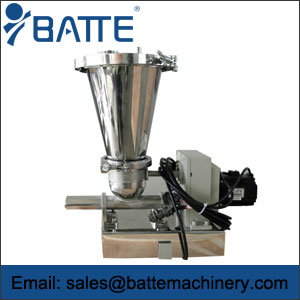 (1) It can be used in a wide range of applications, such as iron and steel, chemical industry, mining, medicine, pellets, powder, calcium carbonate, talc powder, resin film powder, etc.
(2) Danbach's weightlessness feeding machine, such as screw, is easy to be decomposed, simple in assembly and easy to clean.
(3) Danbach has strong technical strength, original technology and equipment, and professional sales guidance service team.
(4) the cutting performance is stable, the accuracy is high, and the range of conveying capacity is large.
(5) the static precision of the weightless feeder system reaches 0.1%, and the dynamic accuracy of linearity and repeatability reaches 0.3%.
(6) The control instrument of weightlessness scale adopts high-precision weightlessness scale controller, which has the advantages of high precision, strong anti-interference and good real-time performance; the sensor adopts high-precision sensor module, and the sensor adopts laser welding seal, which has the advantages of high precision and good reliability, and is especially suitable for bad working conditions of the application site;
(7) The control system of the weightlessness feeder is flexible: the Danbach weightlessness control system can realize manual and automatic feeding and feeding, and can realize manual and automatic conversion.
©2015 Batte Mechanical Zhengzhou Co,.Ltd. All rights reserved. 
sales@battemachinery.com
Batte is a
loss in weight feeder manufacturer
, supplying
loss in weight feeder
,
volumetric feeders
, and
metering feeders
.