Fax:+86 371-67993277
Tel: +86 371-67991755
Sales direct: +86 15838331071
E-mail:sales@battemachinery.com
http://www.loss-in-weightfeeder.com
24h services
loss in weight feeder is the best choice for enterprise equipment
At present, the most advanced and most widely used in the feeding machine is the vibrating loss in weight feeder, which is a vibrating loss in weight feeder which can complete the feeding trough through vibration. Industrial and agricultural feeders can be seen everywhere. At present, our country has even invested in the defense industry. The vibrating loss in weight feeder is constantly groping for intelligent, large-scale and intelligent mobile devices. Therefore, for manufacturers or customers, it is very important to have professional mechanical knowledge and practical experience. The manufacturer also has to strengthen its own dynamic design theory. In the feeder towards more advanced, more integrated development at the same time, we must ensure the quality of the feeder, as well as feeder life and normal working procedures.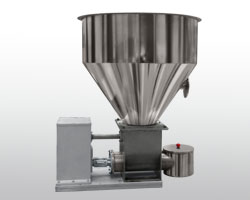 With the development of the society, the resources are becoming more and more scarce and the cost of production materials is getting higher and higher. It is impossible to gain profit by increasing production material and waste of resources. At the same time, the society has entered the information society, and the fine management must require the equipment to be intelligent. Human beings waste resources from unconsciousness to rational exploitation of resources and energy conservation, so fine management must be carried out. The traditional quantitative feeder has lagged behind the requirements of today's production informatization and fine management. If the modern information technology is applied to the quantitative loss in weight feeder, and can be integrated with remote diagnosis, information feedback and field remote control, and the equipment can be connected to the internet global intelligent monitoring center, the automation of the quantitative feeder equipment can be mentioned in a greater degree, and it is beneficial to reduce the manpower cost of the enterprise and better to reduce the cost of the use of the enterprise. In order to avoid the risk caused by the equipment measurement problem, the problem of the production process is discovered early and solved early, so the information quantitative feeder is the direction of the development of the dynamic measurement in the future.
©2015 Batte Mechanical Zhengzhou Co,.Ltd. All rights reserved. 
sales@battemachinery.com
Batte is a
loss in weight feeder manufacturer
, supplying
loss in weight feeder
,
volumetric feeders
, and
metering feeders
.