Fax:+86 371-67993277
Tel: +86 371-67991755
Sales direct: +86 15838331071
E-mail:sales@battemachinery.com
http://www.loss-in-weightfeeder.com
24h services
Series powder feeder
Product introduction:
This series of powder feeder uses the principle of vacuum suction, which can send a variety of powder and granular materials with the diameter of the average particle size larger than one micron from all kinds of storage containers to the designated equipment. It can be used in conjunction with profile machine, mixing system and chemical processing equipment, completely replacing manual feeding. It is an ideal environmental protection equipment for powder conveying.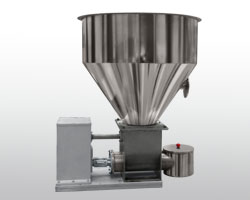 Characteristic:
1. The series of powder feeder is designed and manufactured on the basis of the advantages of the imported prototype.
2. The imported dust filter device has high intensity, good dust interception effect and no pollution.
3. The vibrating discharge system can prevent the powder from being bridged, and make the discharge more smooth.
4. Pulse compression air blowup cleaning device and air blast explosion impact filter surface are adopted.
5. This series of powder feeder adopts a single suction reverse blow cleaning to make the feeding efficiency more efficient and prolong the service life of the filter device.
©2015 Batte Mechanical Zhengzhou Co,.Ltd. All rights reserved. 
sales@battemachinery.com
Batte is a
loss in weight feeder manufacturer
, supplying
loss in weight feeder
,
volumetric feeders
, and
metering feeders
.