Fax:+86 371-67993277
Tel: +86 371-67991755
Sales direct: +86 15838331071
E-mail:sales@battemachinery.com
http://www.loss-in-weightfeeder.com
24h services
Loss in weight feeder application range
1, the only high-tech product in China that adopts precision weighing technology is up to + 1%.
2, the unique FIVDSP anti vibration technology, RS232/RS485 or CAN bus communication function.
3, 4*4 dust-free keyboard, easy to set, query various operation modes and parameters, operation is very convenient.
4, with self diagnostic function, high and low flow rate * *, low material report * *, broken material, blocking material (no material) reported * *.
5, compatible with the common control software in the food industry.
6. It has the function of production management. The instrument can display the main stream of raw material, the measurement, the flow of additive, the proportion of additive, and the measurement of the additive.
7, the advanced stepping servo system has a long life and is precise, stable and reliable.
8, there are three modes of work: quantitative, fixed speed and follow-up.
9, add a special mixing device to ensure smooth and uniform discharge, no grading, no layering, no bridge and no arch.
10, the voice of the device can be prompted (optional).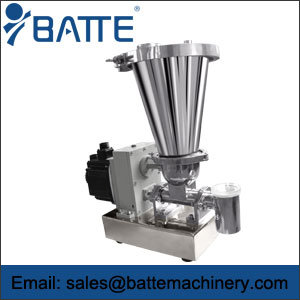 Loss in weight feeder application range
1. In the food industry, Loss in weight feeder is widely used in the addition of trace additives such as whitening agent, ADA, Vc, enzyme and other trace additives, as well as the addition of main materials (such as flour, color powder, cocoa powder, sugar powder, etc.).
2, the addition of the main material or auxiliary materials in the plastic industry.
©2015 Batte Mechanical Zhengzhou Co,.Ltd. All rights reserved. 
sales@battemachinery.com
Batte is a
loss in weight feeder manufacturer
, supplying
loss in weight feeder
,
volumetric feeders
, and
metering feeders
.