Fax:+86 371-67993277
Tel: +86 371-67991755
Sales direct: +86 15838331071
E-mail:sales@battemachinery.com
http://www.loss-in-weightfeeder.com
24h services
Micro weight loss feeding machine features
Micro weight loss feeding machine features:
1. Micro weightlessness feeding machine adopts high-precision metering and high-precision steady flow.
2. Micro weightlessness feeder is especially suitable for small flow applications.
3. There is no delay in conveying time for the micro weightlessness feeder, which guarantees the accuracy of seconds to seconds.
4. The micro weightlessness feeder can automatically track the feeding accuracy during normal operation and automatically display the control error.
5. Micro weightlessness feeding machine adopts stainless steel structure. The micro screw feeder is used for continuous feeding and unloading of small batch of powdery material. It also has the characteristics of stable flow and good sealing. The size of the miniature screw feeder is determined according to the amount of feed per hour (feed volume): the average feed quantity is 0.5 kg / h - 800 kg / hr. The length of feeder (center distance between inlet and outlet) is generally 200mm-2000mm.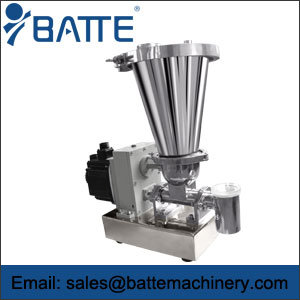 ©2015 Batte Mechanical Zhengzhou Co,.Ltd. All rights reserved. 
sales@battemachinery.com
Batte is a
loss in weight feeder manufacturer
, supplying
loss in weight feeder
,
volumetric feeders
, and
metering feeders
.