Fax:+86 371-67993277
Tel: +86 371-67991755
Sales direct: +86 15838331071
E-mail:sales@battemachinery.com
http://www.loss-in-weightfeeder.com
24h services
A stable and reliable continuous and intermittent feeding scheme
When the bulk density of the material is uniform, and the quality of the final product is not harsh to the feeding precision, the volume feeder provides a low cost and simple feeding scheme for the application of continuous and intermittent feeding.
Volumetric feeder is often used in batch weight increasing applications, which makes feeding accuracy higher. When the precision requirements are very high, the screw feeder with load cell and weightless controller can raise the accuracy to a new level.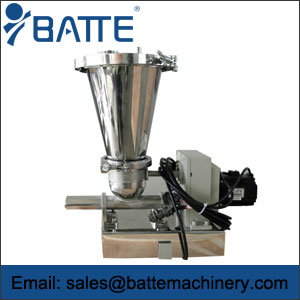 In the Carle wheat system, we offer you reliable volumetric feeder. The single screw volume feeder is the best choice for the material with good fluidity, and the twin screw volume feeder is the best choice for the poor fluidity and hard feed solid material. To cater for the wide range of feed volume, we offer various sizes of volumetric feeder and different hopper sizes for your choice.
©2015 Batte Mechanical Zhengzhou Co,.Ltd. All rights reserved. 
sales@battemachinery.com
Batte is a
loss in weight feeder manufacturer
, supplying
loss in weight feeder
,
volumetric feeders
, and
metering feeders
.