Fax:+86 371-67993277
Tel: +86 371-67991755
Sales direct: +86 15838331071
E-mail:sales@battemachinery.com
http://www.loss-in-weightfeeder.com
24h services
Metering feeder system
Weightless metering feeder device
Application Industry: automotive, rubber, plastic, pharmaceutical, food, packaging.
The metering station is suitable for the metering of powder material which is easy to flow or flow and has high viscosity. It can be combined with other metering systems arbitrarily, which is suitable for continuous metering production technology, such as mixing granulation, food and chemical production technology.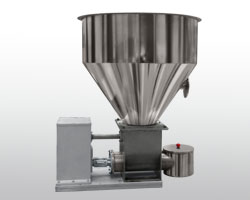 Our modular optimization design, that is, can be used as a volume feeding, and can be used as a weight loss metering feeder, making the whole system more adaptive to the change of the customer's processing technology formula; the special design of the precision screw feed module is used to optimize the design of mechanical mixing module to solve the high viscosity and not easy to flow. With the principle of weightlessness, the flow of raw materials is constantly monitored and calibrated. The output range is from 0.2dm3/hr-8000dm3/h, and the measurement accuracy can reach to 0.5%.
The storehouse of the metering feeder station can be dismantled and removed simply and quickly. It takes only a few minutes to clean the material in the equipment to minimize the waiting time, and it is safe and reliable.
©2015 Batte Mechanical Zhengzhou Co,.Ltd. All rights reserved. 
sales@battemachinery.com
Batte is a
loss in weight feeder manufacturer
, supplying
loss in weight feeder
,
volumetric feeders
, and
metering feeders
.